B4X Projects Launcher created with B4J by Leafecodes creates, organises, sets packages names and starts your new B4X projects for you, Whether you are a beginner or an expert user. It supports all platforms that is B4J, B4i, B4A, B4R.
B4X Projects Launcher is a must-have application for every Developer.
What B4X Projects Launcher Does:
1. Creates new projects with application names in its own directory
Directory Structure
Main Directory:
B4X Projects
Sub Directory:
B4A Projects
B4J Projects
B4I Projects
B4R Projects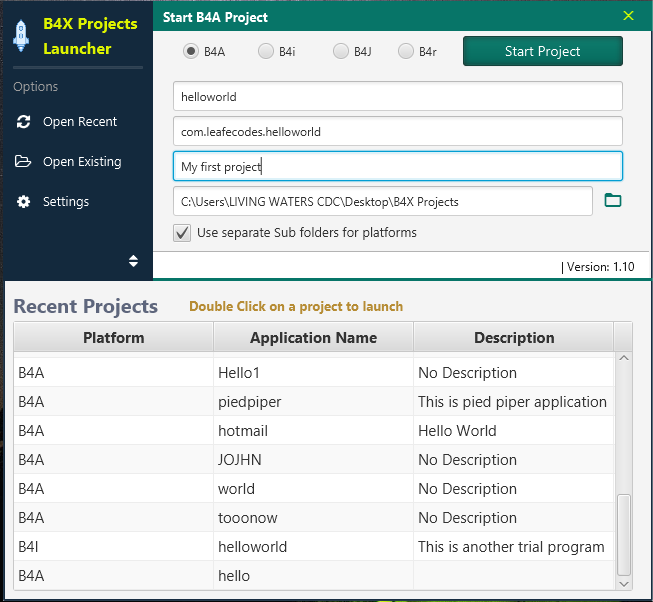 **Option to save all projects together in Main directory**
2. Sets package names for new projects automatically using your application (project name)
3. Starts the projects for you for the first time without going to the directory
Option to open Recent project(Last opened project)
Option to open an 

Existing project

 from other locations on a users computer
New/Edited 

package name saved automatically

 and loaded upon new project creation
Option to add a description to projects added

Duplicated Projects names are renamed

 with a number eg. HelloWorld, HelloWorld1, HelloWorld2

All projects created with the Launcher are Listed and can be opened with a Double Click
Option to Upload Base IDE Files into the Launcher. When there is a new version of the IDE, the user can use this option to upload skeleton files into the launcher. Instructions included on how to upload base files. Also, custom modules, files, icons which users will like to see upon the creation of new projects can also be uploaded here.
Added Tray Icon for quick launch.
Projects are now created based on platform (IDE) installed on a users machine. Example, if you do not have B4i installed, you cant create B4i Projects.