HOW TO PROPERLY INSTALL AND SETUP B4A FOR ANDROID DEVELOPMENT
B4A formerly called Basic4android has been among the top applications for native android app development. If you are someone coming form Visual Basic background or, you are someone who needs a very quick way to start developing android app in matter of minutes then B4A is the right choice. B4A has a great Modern IDE, Powerful WYSIWYG Designer, Android Android Features, UI clound and a large community of devlopers ready to help.
B4X Programming language is the modern version of visual basic, Its simple and powerful
Anywhere Software, the developers of B4A (paid) also have other products in stock like B4I (paid) for IOS development, B4J (Free) for Java and IOT Development, B4R (Free) for Arduino development.

HOW TO START
Download the following softwares:
B4A Bridge (android app on googleplay)
You are almost done. Now that we have installed the necessary softwares.
LAUNCHING B4A FOR FIRST TIME
When you open B4A for the very first time, you have to configure the Java and Android SDK. to do that:
Click on tools
Click on Configure paths
The path configuration Dialog box will open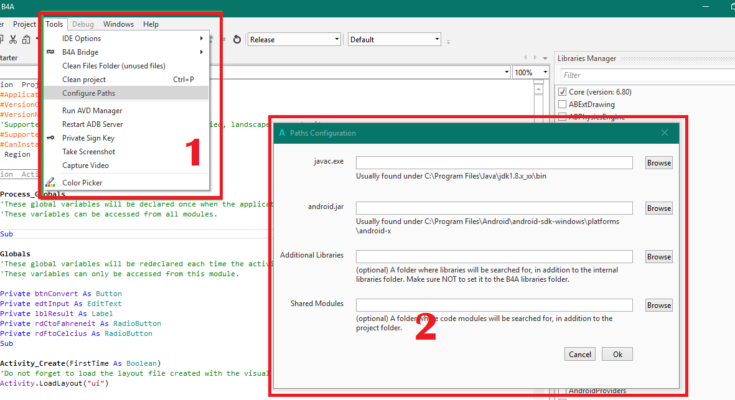 Next select the installation paths of the Java and Android Jar and click ok. Leave the Additional Libraries and Shared modules empty for now
Voila, We are set to Develop Great Android apps. Remember to leave comment if you need help setting up.